Titled and curated by Melinda Gordon of NewTV, "Pan Left, Pan Right, Tilt Up, Tilt Down" is an exhibit of 23 photos that show the similarity of videography with still photography. Ms. Gordon discovered that the technical and artistic decisions that Fran makes in the creation of his still photo images are not unlike the decisions made in the creations of videographers and filmmakers. The story being told, the choice of subject matter, light, exposure and focal planes are critical to the success of the images/videos/films. In many ways, a printed panorama (or tilt-orama) scene can be considered a long, still version of a panning (or tilting) video/film scene.
In the manhole-covers-of-the-world section of his website, the photographer Fran Gardino said,"I've been looking down so long, I don't know which way looks up." Since those earlier days, he has learned to focus his lens in other directions, at a variety of subjects from clouds, flowers and trees, close-ups of rocks, seaweed and other coastal items, bridges, and cityscape scenes along the Charles River of Boston, as is evident in the show of his panorama (left to right) and tilt-orama (up and down) photo prints that are included in this show at the NewTV Gallery.

Many photographers today have been shooting panoramas both horizontal and vertical (tilt-orama) partly due to the emergence of digital photography and digital image stitching. Most have been of the curvy type photos using a wide angle lens which captures panoramic images that, for the most part, allow us to see a particular scene as if we are standing in the middle. Fran creates images that have many stories, and are of a more traditional nature in that light, shade, composition, color, mood and content are the integral components, and that sometimes jump out of reality into abstractions of lines, shapes and colors without the lens distortions. Some of them are pure "process photos" allowing the viewer to experience Fran's "joy of shooting".
What is truly unique about his photos, is the library of eastern and western aesthetics from which he chooses. Fran has shot many photos in this state of mind. If you look they are there. The photographers: Siskind, Stieglitz, Callahan, Porter, Burtynsky etc. The painters: Keifer, Klee, Dine, Kemeny, Pollack, Poons, Albers, Klein, Gotlieb, Mazur, Motherwell, Sheeler, Braque, Munch, Monet, many Asian scroll painting/print artists, and numerous other artists' work that he has obviously seen somewhere in books, museums etc. (Fran was a field and textural painter with a BFA in Painting from MassArt before he became a photographer.)
In Fran's photos you will see is a curiousity that makes you want to look around to what's in your neighborhood or within your walking or driving vicinity and find the "local beauty", then shoot it in a way that allows others to appreciate it a well. Kinda like the dog (urban Eliot Porter) in the poem
"DOG", that starts with "The dog trots freely in the street"
by Ferlinghetti.

In some of his other photos as in the Moses Cloud panorama, Fran has chosen to photograph out of the windows of commercial flights to many destinations throughout the USA. In his carefully planned, panned and tilted sequences of dramatic clouds, he has captured long and tall views of dramatic scenes from above 30K feet such as one named
"Coach Class Sunrise"
which has recently been installed as a 10 foot by 30 foot photo in Terminal A of Logan Airport. Massport chose that photo as it is both calming and inspiring for the traveler and pilots alike.

In his seaside scenes, one can visualize Fran climbing in and out of rocks creating macro panorama worlds of giant colorful seagrapes and a massive scenes of periwinkle clusters drying in the mist, using a standard macro lens, a tripod and a remote shutter release cable. "Bahama Wall Drips" is an abstraction of a crumbling smeared cement and rusty red/brown drips, caught in a fit of Wabi Sabi desperation at a Bahamian Resort.


Fran's Charles and Mystic River landscapes with old and new trees, bushes and reeds, caught in various light, celebrate the essence of "being there" moments. While some of them are sharp renditions of colorful bridges such as the "Flower Bridge of Shelburne Falls" (shown below and in Terminal E Logan Airport Photo Mural), others are explosions of colors, shapes and lines as in the "Arboretum Mimosa", "Rogers Park Tree" and "Mystic Lake Lily Pads".

Finally, his "James Hook before the Fire" tilt-orama (shown below) is a vertical view of the old James Hook Lobster restaurant in downtown Boston against a backdrop of the sleek (oops) new architecture of the financial district and makes us aware of the then and now, and captures the "old and new" Boston, as we have seen in recent Scorcese movies..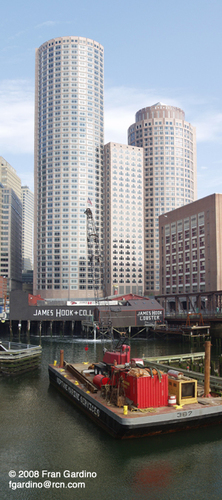 Fran's long and tall photos in this show, are playfully artistic, social and cultural statements of a native Bostonian photographer and are on display and for sale until Feb 28, 2009 in the
Newton NewTV Gallery
.
For more information contact Melinda Gordon, Curator at 617-965-7200 X118
You can also view most of these photos and his other photo collections on the web at
www.frangardino.com
.